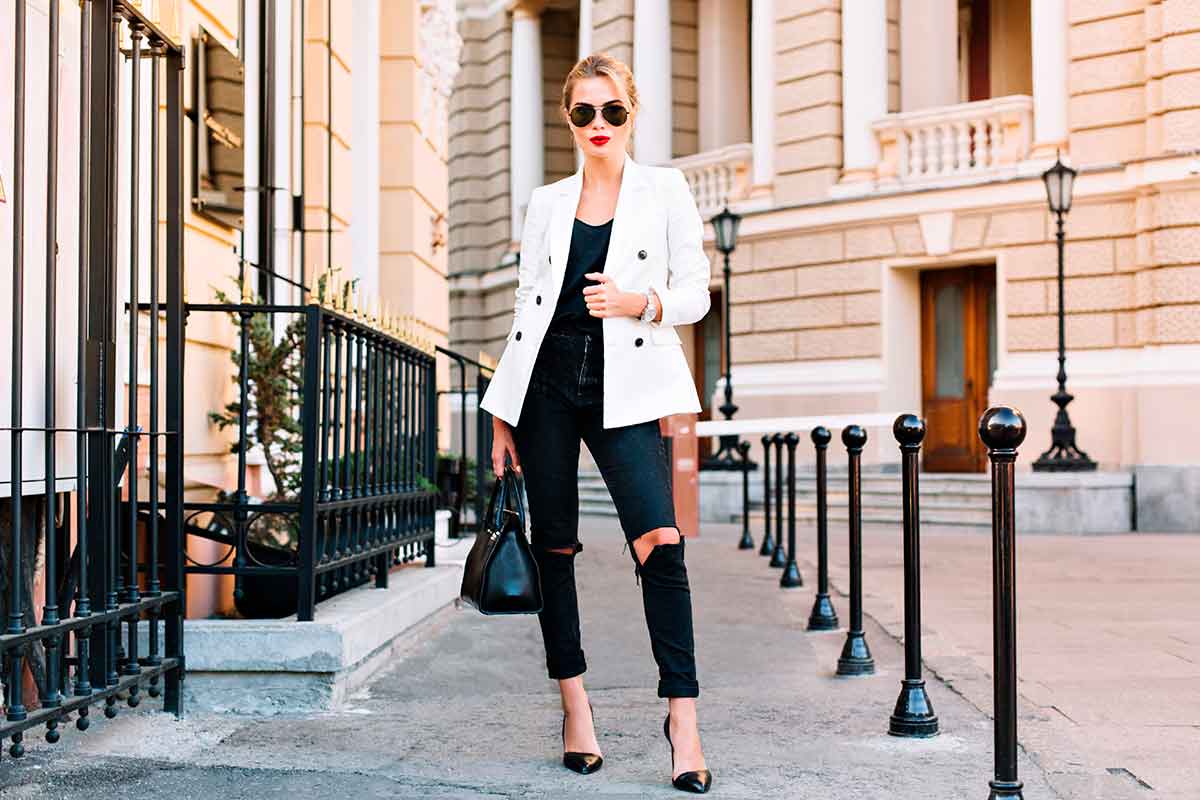 10 Things To Wear With Black Jeans
December 12, 2018
Black is the color of mystery, intense power, carnal authority, immense elegance, and sophistication. In fact, the universe is black in color, with barely any speck of light in it. So, when it comes to the fashion style, the only color that can win over anything is black.
You can pair anything and almost everything with this colored apparel, despite the fact that the other pairing is of different colors. But when you are talking about black jeans, then yes, some particular things need to be considered.
When you are wearing black jeans, regardless of its design, you need to choose the perfect color combination of the clothes to complete the look. The amiable choice will heighten your elegance and will make your stance appealing.
So, from the next time when you are picking your ripped black skinny jeans or the normal black denim, make sure you are considering these suggestions to make your feminine aura more pronounced.
BLACK JEANS WITH NEUTRAL SHADES OF BROWN
When you pair your skinny black jeans with different shades of neutral brown, the combination is said to be the epitome of sophisticated sensuality. Wear a neutral brown shirt or throw a cardigan of the same shade over black jeans. Don't forget to add details to the look. There are lots ladies jeans manufacturer in Indian market who designed faishonable jeans.
BLACK JEANS WITH OFF-WHITE SHADES
Off-white shades and black are both shady colors, giving a dull yet appealing combination. Make sure the dress, which you are choosing in off-white is close to cream shade because that will highlight your look. Make sure to balance the color contrast with something matching like brown boots or a denim jacket.
WEAR THE BLACK JEANS WITH FLIMSY GEORGETTE TOP
Choose your favorite pair of black jeans and pair it with a gorgeous top made from georgette or chiffon fabric. The roughness will add texture to your looks. For the color part, you can choose mauve, darker shades of neutral brown, or light pink.
ACHIEVE AN ALL-BLACK LOOK
It's time to go monochrome, especially if you are planning to hit the floors of your favorite club this weekend. Pair your black jeans with tortoise neck cardigan or a black shirt and don't forget to tuck it in. Make a difference in the apparel with a brown belt or any other belt.
GET THE MARVELLOUS COMBINATION OF BLACK AND WHITE
Take out your favorite white shirt or top and toss it over your frame. You can also pair your kurti from the bestkurti manufacturers in India over your favorite black jeans.
BLACK AND OLIVE GREEN GO HAND IN HAND
Make sure the olive green is of a darker shade to complement the essence of the black jeans. You can even create layering with an olive colored jacket over a white top and black jeans.
WEAR A PLAID SHIRT OVER YOUR SKINNY BLACK JEANS
Plaids go well with the black color. You can either wear only the plaid shirt or use it as a cardigan over a tank top or a crop top.
PAIR YOUR STRIPED SHIRT WITH THE JEANS
In case of the striped tops, black and white stripes fit well with the black jeans. If you are choosing a striped top, make sure you keep the accessories and shoes informal. But if you choosing a shirt, don't forget to make your look formal and authoritative.
RUFFLED FLORAL TOPS LOOK CLASSIC WITH THE BLACK COLOR
This pairing is perfect for summer days where you can throw your favorite floral top with ruffled hemline over skinny black jeans. Ankle length or ripped jeans will be perfect in this pair.
PAIR YOUR DISTRESSED BLACK JEANS WITH OVERSIZED SWEATER
This is the most casual look you can get for a mall visit or for high school. Wear your oversized sweater over distressed jeans and pair it with combat boots.