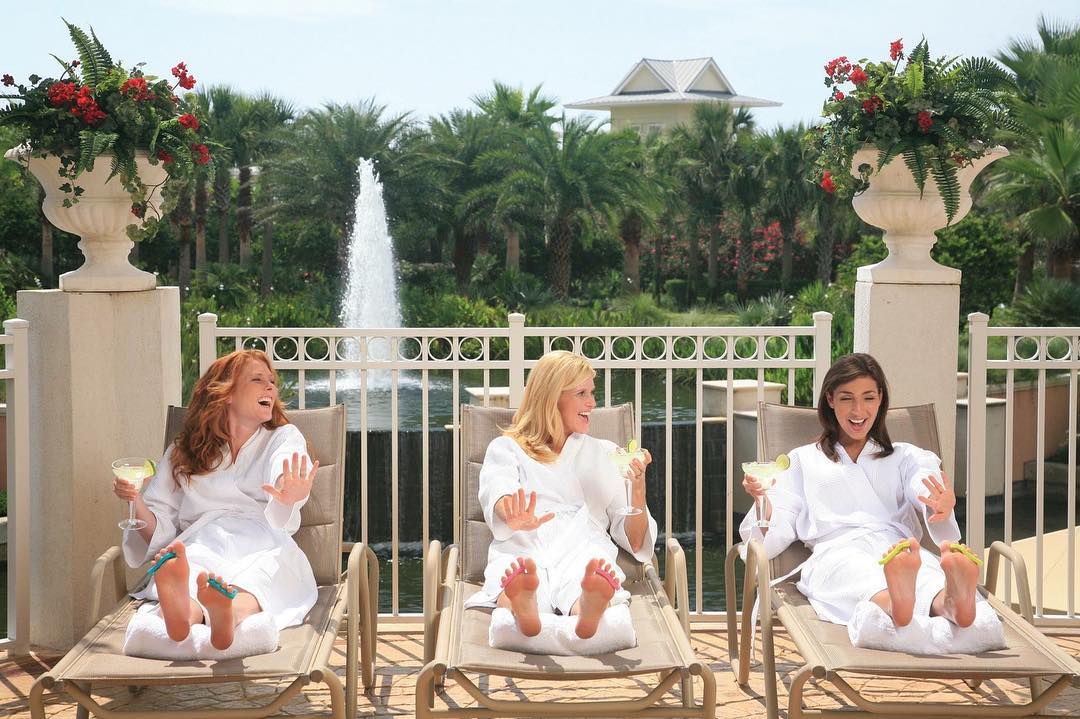 Treat Yourself to a Pampering Day at a Palm Beach Salon: Services for Every Need
August 5, 2023
Taking a break and indulging in self-care to rejuvenate our bodies and minds is always a good idea. One of the best ways to do this? Treating yourself to a pampering day at a Palm Beach salon! With so many different services, you can find just the right fit to suit your needs and help you feel your best.
Regarding self-care and grooming, one of the most significant aspects that can transform your entire look is your hair—in fact, your hair style can make or break your entire look. Not to mention, your confidence!
A visit to a Palm Beach hair salon offers many hair services that can cater to your every need, whether you're looking for a bold new style, a subtle change, or a trim to keep your locks healthy.
In this blog post, we will explore the various salon services available and how to determine which ones are right for you depending on your goals.
Palm Beach Salon Services to Choose From
So, prepare to dive deeper into the various hair services offered at hair salons to help you feel empowered in the choices you make for your hair.
1.   Haircuts: from classic to contemporary
The foundation of every fantastic hairstyle is a well-executed haircut. A professional hairstylist at a Palm Beach hair salon can give you a haircut that complements your face shape and reflects your personality and style.
Do you prefer a classic, timeless look? Or perhaps something on the more trendy and contemporary style? No matter what, the expert stylists have the skills to deliver a haircut that suits you perfectly.
But this also involves communicating with your hairstylist and working as a team. So, don't shy away from communicating your preferences and any specific ideas you have in mind—a good stylist will listen and work with you to achieve your desired result.
2.   Hair coloring: embrace your true colors
Hair coloring is a transformative service—it's one that can breathe new life into your locks. Whether you want to cover gray hair, add dimension with highlights, or go for a bold fashion color, a professional colorist can help you achieve your desired hue. The key to a successful hair color service is to find the right shade that complements your skin tone and enhances your natural features.
Consulting with an experienced colorist helps you get a color that flatters you and is easy to maintain.
3.   Styling: get ready to shine
Special occasions call for fabulous hairstyles, and the stylists at Palm Beach hair salons can work their magic to create stunning looks for any event. From elegant updos for weddings and proms to glamorous blowouts for a night out, your professional stylist will elevate your style and make you feel like a million bucks.
When choosing a styling service there are a few things to consider that help the stylist design a look that suits the event perfectly.
For example:
The occasion
Your outfit
Level of formality
4.   Hair extensions: length and volume
Hair extensions can be a game-changer for those longing for long, luscious locks or added volume. Hair extensions come in various types, such as clip-ins, tape-ins, and bonded extensions, each with benefits and considerations.
Your skilled hair stylist will help you select the right extensions and seamlessly blend them with your natural hair for a natural and beautiful result—and the incredible confidence boost that comes with them!
5.   Hair treatments: nourishment and repair
Healthy hair is the foundation of all of the best hairstyles. What can you do to get there? For starters, turn to hair treatments to restore and maintain your locks' health. From deep conditioning treatments that nourish and hydrate dry and damaged hair to keratin treatments that tame frizz and add shine, salons offer a range of therapies to address various concerns.
Regular hair treatments can significantly improve the texture and appearance of your hair, making it easier to manage and style.
6.   Hair styling tips and advice
A visit to a Palm Beach hair salon is not just about getting a one-time service; it's an opportunity to learn more about caring for and styling your hair at home. A good stylist will also offer:
Personalized tips and advice on maintaining your hairstyle
The best product recommendations
Strategies for boosting your hair health
Being proactive about your hair care routine will keep your locks looking fabulous and healthy in the long run.
Choosing the Right Hair Service for You
Let's recap some of the considerations to keep in mind when you're planning a visit to the salon. These make sure all of your bases are covered and ensure your goals are met.
Know your goals: Determine what you want to achieve with your hair service. Are you looking for a dramatic change or a subtle enhancement? Understanding your goals will help you communicate your expectations to the stylist.
Consider your lifestyle: Consider how much time you can dedicate to styling and maintaining your hair daily. Choose a haircut and color that align with your lifestyle and won't require excessive effort to upkeep.
Bring inspiration: If you have specific ideas or pictures of hairstyles you love, bring them along to your salon appointment. Visual references can help the stylist understand your preferences better.
Trust your stylist: Professional hairstylists have extensive experience and knowledge. Don't be afraid to ask for their advice; trust their expertise when selecting the right service for you.
Be open to change: While preferences are essential, don't be afraid to try something new. Your stylist might have fantastic ideas that you hadn't considered before.
Conclusion: Find the Palm Beach Salon for You
A visit to a Palm Beach hair salon offers a wealth of hair services that can elevate your style and boost your confidence. From haircuts and coloring to styling and extensions, these services are designed to cater to your every need, whether you're preparing for a special occasion or simply treating yourself to a day of pampering.
By understanding your goals, considering your lifestyle, and seeking expert advice, you can choose the perfect hair service that will make you look and feel fabulous every day. So, go ahead, book an appointment, and get ready to treat yourself to a transformative and pampering experience at a Palm Beach hair salon.
Want to make your search a whole lot easier? Book now at one of Florida's most respected and popular salons: Anushka Palm Beach!